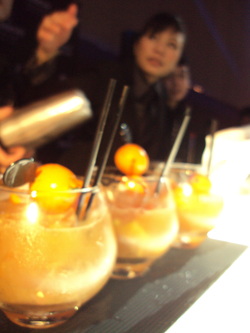 Spirit House Services

Spirit House provides a full range of consulting in the spirits, mixology and hospitality world. Combining elite educational experience and world-wide engagement for brands, hospitality and private clients around the globe. The systems that the guest doesn't see help hold together the multiple facets of a world-class beverage program. Our craft cocktail programs command attention.

Strategy Spirit House is the unique position of being ahead of trends by working on the inside of cocktail and spirits culture with a list of industry leading clients that span the gamut form spirits brands to five star hotels, to lifestyle gurus. We know how to drink with style and sophistication.

Ergonomic Bar Design From hardware's to soft, the placement and selection of equipment and tools used to craft cocktails is as important as any ingredient. Hospitality is the face of a well-run bar program, the physical bar is the assembly line. An efficient bar makes an efficient bartender and one that can spend more time focused on his or her guest. We spend hours thinking about this so that you can save seconds on your assembly line.

Spirits and Cocktails Education and Curation Interpreting the vast amount of spirit options into a meaningful, profitable program is balancing the quality of a product in relation to its cost. Alchemy is in constant communication with spirit brands, aware of new products as they become available. We create a spirit list beyond customers' expectations without breaking the bank.

Menu Design Spirit House has been part of an movement that has set the standard for today's modern and classic cocktails. Our ever-growing database of classic and modern cocktails is a product of intense historical and cultural research and creativity employing premium spirits, produce, and techniques.

Custom Ingredients Our team has been on the cutting edge of designing some of today's modern spirits, bitters, and custom ingredients such as syrups and will make your venue stand out with its unique and sustainable approach to "house" ingredients.

Technique Spirit House has the distinct advantage of being able to observe and hone bar techniques form around the globe to produce its unique approach to the bar as both temple of hospitality and drink making factory.

Mentorship We have educated and mentored a long list of future award-winning bartenders around the world.

Human Resources We have staffed some of the word's best bars from Tokyo to New York and everywhere between, Spirit House is a living, breathing nerve-center with its finger on the pulse of today;s ever-changing culinary world.

Outreach Spirit House possesses a unique insider's knowledge and contact list of the global who's who of the spirits business and media.


---